Breeding Philosophy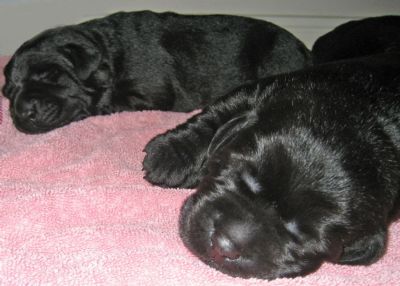 We breed for ourselves first and ONLY for the purpose of improving the breed. Litters are carefully planned and we are honoured to be able to occasionally provide puppies for sale to owners who will truly appreciate the experience of sharing their lives with a quality Labrador Retriever. A lot of sacrifices are made and sometimes hearts broken by the realisation that a puppy we have raised is not suitable for our breeding program. Unfortunately, this is a necessary part of the process in selective breeding. No matter how much we may have fallen in love with a dog or how stunning they are, regardless of how many hopes we may have 'pinned' on a particular dog, not all are suitable for breeding.
Our breeding choices are prioritised in this order:
TEMPERAMENT - NO Labrador Retriever should have an aggressive temperament and one would NEVER be considered for our breeding program. A Labrador with an aggressive temperament would never make it to point 2 below in our breeding program. This includes aggression towards other dogs AND/OR aggression towards people.
SOUNDNESS - Like all breeds, Labrador Retrievers are known to have a predisposition to various health conditions and we make careful consideration when breeding to reduce the likelihood of producing dogs with health defects. This is done through both our observation of the breeding dogs' growth and development as well as genetic testing (DNA testing) and x-raying (including scoring) of hips and elbows. **Please note that even with all the health testing available, no breeder can guarantee the complete genetic make-up of a puppy. A breeder also cannot guarantee that a dog will not end up with health issues as their development is also greatly affected by how they are raised, including feeding and exercise. We do however offer a Limited Health Guarantee for peace of mind in the unlikely event that one of our puppies is found to have one of the listed hereditary diseases.
CONFORMATION - I believe that soundness and conformation are one in the same when it comes to a dog's structure. If a dog has poor structure it is likely to have issues with soundness; for example, a dog with poor shoulder placement may often become lame in the front end or even develop OCD. Those that advertise, "dog showing is just a beauty contest for dogs" clearly have never been involved in the sport! Conformation refers to how the dog is put together structurally as well as external appearance. External appearance is obviously determined by structure as well as the outer covering (coat, eye colour, muscle tone, ear placement, tail carriage etc.).
A lot of time, research and thought goes into making a final decision of which dogs to breed. We also seek the advice of other experts of the breed as their experiences can be invaluable. With breeders working together and sharing their knowledge, we all have a better chance of achieving what we set out to achieve - breeding quality Labradors.