Conformation Shows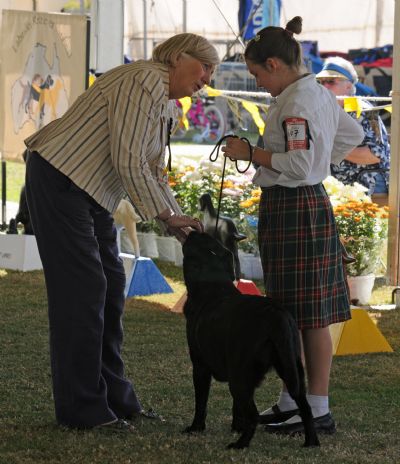 Conformation showing is a sport/recreational activity where registered pedigree dogs are exhibited in competition against each other for the purpose of judging which are the best examples of their breed according to the Breed Standard. In short, judges determine through sight and hands-on examination which dog and bitch of each breed, best represents what the breed should look, behave (temperament) and move like. Judges undertake many years of theoretical and practical study to gain the necessary knowledge and experience needed to judge which dog/s best meet the written Standard of each breed.
Dog shows are generally open to the public (for viewing) and are conducted under the Australian National Kennel Council's (ANKC) rules as well as the rules of the Canine Control Council of each state. Here in QLD, our state controlling body is the Canine Control Council of QLD which currently trades as "Dogs QLD". The ANKC and Dogs QLD rules can be viewed on their respective websites here: Dogs QLD and ANKC.
For the benefit of breeders, I strongly believe that conformation showing is extremely important if you are to develop an "eye" for 'breed type' as exhibitors are regularly exposed to many 'types' of Labrador Retrievers - some with features you are looking to breed in your dogs and others with features that you want to avoid. You will also be able to see some of the most outstanding examples of your breed if you attend 'Breed Speciality' Shows, as exhibitors will travel from interstate to exhibit, especially if they have a top winning dog. Apart from developing an "eye" for the breed, you will be able to socialise with other experienced breeders and probably learn a great deal from their experiences too.
If you are interested in showing your Labrador Retriever, firstly your dog MUST be registered on the "Main Register" with your state's Canine Control Council. Dogs that are registered by their breeder on the "Limited Register" before sale are not deemed appropriate for showing or breeding and cannot be entered in conformation shows. In exceptional circumstances the breeder of your dog MAY, solely at his/her discretion, agree to transfer your dog to the "Main Register" if they change their mind about the suitability of your dog for showing or breeding. Remember that a breeder's stock is 'on show' when a dog is exhibited in the conformation ring, so a breeder is unlikely to agree to allow a dog to be shown unless they feel that the dog is up to standard/of exceptional quality. You may feel that your dog is the most lovely Labrador Retriever you have seen but experienced eyes will see conformation faults or weaknesses that you have never noticed. In this instance it is definitely best to trust your breeder's judgement. If you are serious about getting involved in showing OR breeding, you are best to be upfront about this right from the outset so that your chosen breeder can be on the lookout for a suitable pup for your purposes - this may take time so be prepared to wait! If you are interested in purchasing a show puppy, I recommend that the best place to start is with a breeder who DOES actually show their dogs.
So you want to show your Labrador Retriever?
This information should help you get started:
Firstly you need to become a "Member" of the Canine Control Council of your state (application forms are generally available on their website as well as a schedule of fees). Once your membership is ratified and you have your membership number, you will usually receive a monthly magazine that outlines the upcoming conformation shows that you could enter - in QLD this is the "Dog World". If you have a registered pedigree Labrador Retriever that is registered on the "Main Register", and your puppy is at least 3 months of age, you can enter him/her in a dog show. You will also need to order some entry forms from the Canine Control Council of your state as you must enter shows on the official form prior to the closing date for that show. On the back of the official entry form, it will outline which class your dog is eligible to compete in. This is based on the dog's sex and age. Please note: for all ordinary age classes, your dog must be "entire" (i.e. not de-sexed) in order to be eligible for exhibition. Some shows do hold "Neuter classes" for dogs that are de-sexed but this is currently not the norm here in QLD. Your dog may be eligible to enter more than one age class but you should only enter one. It can be a bit confusing at first but once you have entered a few shows, you will understand the system fairly easily. The easiest way to complete the entry process is to contact the breeder who sold you the puppy (keep in regular contact actually) and a good breeder will walk you through the process. Your breeder should also help you with advice on the most appropriate lead, time to get to the show and showing techniques etc. My advice would be to go to a show that the breeder of the puppy is attending so they can help you on the day. If your breeder doesn't participate in conformation shows, your local Labrador Club will certainly put you in contact with someone who should help you get involved.
Prior to the day of the show, you will need to make sure your dog is in top condition! No judge wants to do a 'hands-on' examination of a filthy or smelly dog or one covered in fleas etc. Your Labrador should have a healthy thick coat and be fit and in good shape so that he/she can look their best on the day. We wash our dogs using Isle of Dogs No.10 (Evening Primrose) at least one day before the show but there are plenty of other suitable dog shampoos. We also ALWAYS rinse them with flea/tick treatment after each bath to avoid the possibility of them picking up a tick or fleas at shows, as we put our dog's health first.
You will need to arrange some "bait" for the day of the show. Bait is simply food that is used to help encourage and reward your dog in the ring when standing (free stacking). We have used many different treats over the years including cheese, cooked sausages, liver treats and frankfurts. Some people use toys to encourage their dogs and some judges prefer exhibitors not to use food in the ring at all so it is best to practise without treats sometimes. In time you will find what gets the best out of your dog and what you are most comfortable using, if anything.
Also make sure you have practised running your dog in anti-clockwise circles (with the dog on your left) as well as "out and back" in a straight line. Running your dog in the ring is done at a TROT so that the dog's natural gait can be judged. You want your dog to maintain a steady and easy trotting pace that is natural for them. Ask your family or friends to do a hands-on examination of your dog to get him/her used to being touched while the dog stands still. They can also have a quick look at the dog's teeth to get the dog used to that too. Practise prior to showing will help your dog enormously as well as make you more confident before you actually exhibit in the ring.
On the day of the show, you will need the following items:
Smart casual clothes for you to show in

Chair for you while you wait for your turn in the ring

Dog bait

Dog lead

Dog water bowl

Dog brush

Dog towel
Other items that are optional but very useful are:
Shade (most exhibitors own gazebos or porta-shades so that they can wait with their dog out of the sun)

Dog bed

Dog crate (this is a basic cage big enough for your dog to stand, sit or lay down in to sleep so that you don't have to control them on the lead for long periods of time)
At the show, you will need to collect your exhibitor number as this must be worn by you in the ring to identify your dog. You may also collect your show catalogue (if you paid for one with your entry) which lists all of the dogs entered in the show. This also tells you the order of judging so you know when it is your turn. Find out which ring Gundogs are being judged in and find a suitable spot to watch and wait until your turn. Watching is important so that you can see how the judge has chosen to move the dogs around the ring. That way you can be a little more prepared when it is your turn. Judging commences with dog breeds in alphabetical order so Labrador Retrievers are generally exhibited well after commencement of the show. Note: Occasionally shows are judged from L-Z followed by A-H so you must always check your show schedule for details.
Judging of each breed commences with dogs (males) in order from youngest age group to open age group as follows:
**Note: there are other classes available but this is the list of classes commonly offered at shows in QLD.
Baby Puppy Dog (males 3-under 6 months of age, Class 1) and NOT eligible for championship points.

Minor puppy Dog (males 6-under 9 months of age, Class 2).

Puppy Dog (males 6-under 12 months of age, Class 3).

Junior Dog (males 9-under 18 months of age, Class 4).

Intermediate Dog (males 18-under 36 months of age, Class 5).

State-Bred Dog (males 6 months and over who were initially registered in the state they are being exhibited in, Class 9).

Australian-Bred Dog (males 6 months and over that were whelped (born) in Australia, Class 10).

Open Dog (males 6 months and over, Class 11).
Bitch (female) classes are the same as Dog classes above but their class number is followed by the letter "A" (i.e. 1A is Baby Puppy Bitch, 2A is Minor Puppy Bitch etc.)
The classes offered at each show will be the same for dogs and bitches but not all classes will necessarily have dogs entered in them. There may also be absentees on the day so be aware of what is happening in the ring and listen to the ring Steward to call your number. You will be called twice by the ring Steward and you are then expected to be ready with your dog in the ring assembly area. If you are called a third time without being ready at the ring entrance with your dog, you will be called "absent" and excluded from further competition with that dog in the given show.
During the judging of each breed, the winner of each age class (except Baby Puppies) will be exhibited again together with all the other age class winners so that the judge can determine the "Dog Challenge" (male) winner. The best male dog will be awarded points towards their championship title - these points are called "Challenge Points" and you will be eligible to receive a "Challenge Certificate" showing the number of points awarded. The certificate is collected from the Writer's table outside the ring at the completion of the group judging. It is important to keep all Challenge certificates as you will need them once your dog has gained the necessary 100 points for their Championship title. The number of points is determined by the number of dogs that were beaten on the day up to a maximum of 25 points. A dog that is awarded "Dog Challenge" (best dog) gains 5 points towards their championship title PLUS 1 point for every dog (male) that was exhibited (except baby puppies).
Therefore, if your dog wins you can add up the points as follows:
5 + 1 for each dog (male) exhibited. *Don't count baby puppies and don't count absentees. Your dog is counted as one exhibited too and the maximum number of points at any one entire show (regardless of how far you go) is 25. For example, if your dog wins against 6 other males, your dog will get 12 challenge points (5 for the win + 7 for the number of dogs exhibited, including your dog).
Bitches (females) will be judged in the same manner as males so that the judge can determine the "Bitch Challenge" (female) winner and she is awarded points in exactly the same way as males.
Once the judge has awarded the Dog Challenge and Bitch Challenge of each breed, those two are then judged together so that a "Best of Breed" can be determined. Best of Breed winners will be awarded challenge points of 5 points plus 1 for each male AND female Labrador exhibited including your Labrador. The Best of Breed points replace the Challenge points - they are not added together. As an example, if your dog won Best of Breed against 6 other males and 5 females, your dog will get 16 challenge points (5 points for Best of Breed + 11 points for the number of Labradors exhibited, including your dog).
Therefore in summary, the judge will determine the best male and female Lab. Both will be awarded challenge points towards their Championship Titles. Whoever then wins between the chosen male and female, could be awarded more points for Best of Breed. In an "All Breeds" show, each breed entered will be judged as above to determine the best of each individual breed.
Breeds are categorised into "Groups", for example "Toys" (also known as Group 1) or "Gundogs" (also known as Group 3) and one judge will usually judge one Group. Once the judge has completed judging all of the breeds belonging to their nominated group, they will judge those "Best of Breed" winners against all other best of breed winners in the group for what is called "Best Exhibit in Group". This group winner will then also be awarded more points towards their championship title in the same manner as breed points (i.e. 5 + 1 for each Gundog exhibited (including yours) up to a maximum of 25 points). Again, group points replace points won at breed level, they don't get added together.
Each of the seven groups are judged in this manner and upon completion of the group winners, one judge is nominated to decide which of the group winners is the "Best Exhibit in Show". More points may then be awarded to that best in show winner depending on entries but the maximum points awarded to any dog towards their championship title in one show is 25 points. Therefore if a group winner was awarded 25 points for achieving "Best Exhibit in Group", they would not be awarded anymore points for the coveted "Best Exhibit in Show".
It is important to note that the points system above applies to CHAMPIONSHIP SHOWS ONLY! You will note in the Show Schedule in Dog World that there are OPEN SHOWS advertised too. These shows are basically entered and run in the same way as Championship Shows however, there are no Challenge points awarded at all. These shows are for "trainee" judges to gain the necessary experience judging each breed before they can be promoted to Championship status. For you, it is much cheaper to enter these shows and also allows you and your dog the opportunity to gain valuable experience in the ring. Ribbons and/or small prizes are often awarded for wins in Open Shows.
I believe the main thing to keep in mind during showing is that you have paid your entry fee to the Club so that your dog can be judged. If you come out of the ring unhappy with the judge's opinion of your dog, i.e. you were beaten, you have got exactly what you paid for... the judge's opinion of your dog. Take it in your stride and try to learn from the experience. In fact, your Labrador Retriever may not have been the best example of the breed exhibited on the day or maybe your Labrador was not in peak condition. Perhaps you didn't handle the dog so that he/she looked their best or there is even the possibility that the judge is not the best judge of a good Labrador Retriever. Either way, you asked for their opinion and you got it! There can only be one winner on the day. This means that there are going to be a lot of disappointed exhibitors!
I always encourage exhibitors to congratulate the winners as I believe that good manners are free of charge and reflect your character enormously. Even if you do not like the dog that beat your dog, saying "Congratulations" or "Well Done" is NOT saying, "I love your dog". It is just good manners and acknowledges that you accept the fact that you were beaten on the day and it is good sportsmanship. Everyone enjoys a win and there is nothing wrong with sharing in the moment for them. Not only is it important to enjoy your sport but enjoying the company of others is part of what makes dog showing an enjoyable hobby. Sore losers, whingers and those that think they know better than the judge, cause conflict and bring everyone down. Try to surround yourself with positive exhibitors who will help you to get the best out of your dog regardless of the results and above all, enjoy your day out with your dog and family.